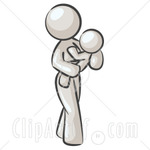 The craziest part of this poem is that it was written on the annivesary of my brothers death... When I had my step daughter at times she would kick and scream because she did not want to go to her mother. I would have to beg her to stay. Boy that killed me. When her mother (drunk) had an accident with her in the car, the first think she said was "mommy call KK she'll know what to do". And so the drama began...

Blessed you were with beautiful a daughter,
To guide and LOVE come hell or high water.
Can't you see she's slipping away?
Your only child you choose to betray.
A Mother should Love with all her heart,
It should not become a dramatic art.
It breaks my heart when she goes to you,
You can not hide it, She sees right through.
She knows the cycle and how it will be,
She already knows your third degree.
Instead of LOVING her and holding her tight,
You constantly remind her of your undivided right.
You've always choose to drink your wine,
As you slowly you left your child behind.
Your needs always mattered more,
You made your child a prisoner of war.
Open your eyes and see the truth,
You've robbed your child of an innocent youth.
The scars she bares so deep within,
There their because of your sin.
A mothers love you can not give,
I pray that someday she can forgive.
Kymberly L. Berson
April 28th 2006