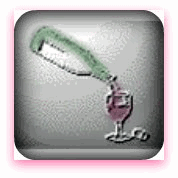 Come visit my grave." Is what she said,
To little to have these thoughts in her head.
She's only a baby she's eight years old,
Through her, her mothers story will be told.
"let's move away and start a new life."
"Maybe my boyfriend will leave his wife."
Every night drink after drink,
Her mind so clouded she couldn't even think.
Her little girl so innocent and pure,
Left with no choice but to quickly mature.
The roles some how became reversed,
Night after night it seemed rehearsed.
Pick her up and bring her home,
Pour some wine and leave her alone.
One glass ALWAYS led to two,
Until she didn't know what to do.
She only four then five then six,
Because of you she learned new tricks.
She learned to cry at nothing at all,
To avoid hearing you make that call.
She learned to say that she felt sick,
Couldn't you see it was only a trick?
"Your fathers no good I need so money."
"Don't look at me like I said something funny."
"Your to little to understand, But your Uncle
now is my new man."
"The time has come for us to move home,
Baby I love you but I need time alone."
"You'll go live with Daddy and you'll start school,
Even though I told you ….he was a fool."
"When things don't work out with my new man,
I'll come get you I'll have a plan."
A little girl so lost and confused
Her little heart has been badly bruised.
"Come visit my grave" is what she said,
Her tiny heart left hanging by a thread.



Author's Comments:
This poem expresses so much of what I have seen her live through in her short life. This poem is TRULY from my heart. This poem has made me thankful that GOD has given me the gift to write. Thanks